Even though the launch of the game did not go as expected, but then when I had a look at the list of people working over at TRS, was noticeably impressed by the cast of elite professional employees they have there. Have a look:
DOUG LOMBARDI:
http://images.g4tv.com/ImageDb3/50073_L/doug-lombardi.jpg
According to http://en.wikipedia.org/wiki/Turtle_Rock_Studios , Doug Lombardi once worked for TRS, which means that TRS probably inherited the skill set of this legendary programmer, who designed the Modern Warfare series before the take-over by Activision.
MACMAN:
Then, of course, we have Macman, the legendary co-founder of TRS, now known for his cordial and active interaction with the Evolve fanbase here on the forum. Macman is known to have an IQ of 183 on the stanford-binet 3rd edition.
KEITH RANIERE: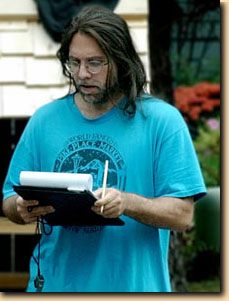 According to the Mega Society website (http://hiqnews.megafoundation.org/Definition_of_IQ'.html), Keith Raniere was said to have scored an IQ of 242 during his childhood, so we really have a very competent programmer here.
TERENCE TAO:
Now I was absolutely shocked when I heard that TRS contracted Terence Tao to program for the upcoming patches. For those who do not know who it is, just do a google search for his wikipedia profile. We have one of the youngest Ph.Ds (at 15) who is working alongside TRS for our future patches, and he has an IQ of 230.
CHRIS LANGAN:
Known to have scored a perfect pre-1994 re-centering score on the SAT (1600/1600 was a 1-in-a-million level back then), this hulk of an intellect has now been contracted to work for TRS to help with future patches and has an IQ of 195.
RICK ROSNER:
A quick search on his LinkedIn account shows that he has attended countless universities (up to 50) non-stop since childhood. The world's 2nd most intelligent man. And he is working for TRS as a graphics and map designer for upcoming patches.
EVANGELOS KATSIOULIS:
With multiple Ph.Ds in medicine, biology, physics, engineering, philosophy, psychology, and 5 other basic degrees, Evangelos' role in TRS is limited as he is the consultant to which TRS bases the biology designs of the monsters on.
ANDREW KARMAL:
Then we have another ex-child prodigy in physics, who has been contracted to help TRS program future patches. With an IQ of over 260, he can solve any problems that Evolve has.
…
With this extremely spectacular team working for TRS, I have absolutely 100% confidence that Evolve will become a great game in the coming future patches. Of course it is already a great game, but it will be the greatest of all games with the best minds on earth working in tandem together.