According to Michael Teachings: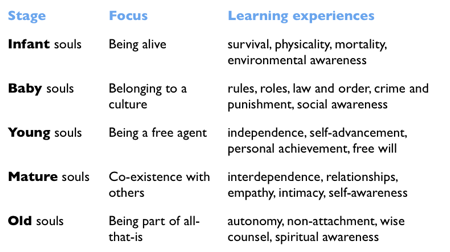 The soul goes through 5-stages (or 35 sub-stages) of reincarnation, in which they move from being an infant soul to an old soul, before finally turn into transcendental souls that no longer require reincarnation.
INFANT EVOLVE PLAYERS:
Are those who are totally new, and must follow the instructions of other more experienced players, and dare not go into the spotlight.
BABY EVOLVE PLAYERS:
Are those who have found a couple of strategies that work, but are so rigid, that they may not try out the rest. They may insist on these methods as the best, not trying out others.
YOUNG EVOLVE PLAYERS:
These guys no have enough experience to succeed in the Evolve game. They now go competing and such to conquer the Evolve arena.
MATURE EVOLVE PLAYERS:
They are less interested in success now. They now see Evolve as a channel to make new friends, and invest heavily into relations and the inherent fun of playing Evolve. They no longer strive to outdo others.
OLD EVOLVE PLAYERS:
They are withdrawing from the Evolve game. However, they have so much experience, that they can serve a good guide in many ways, but are now lacking in the punch to do things as they have already succeeded.
TRANSCENDENTAL EVOLVE PLAYERS:
These are those who no longer seek reincarnation in this game, because they have evolved beyond it, and are now 'reincarnating' in other new interests and stuff. For me, I'm writing non-fiction books at the moment as a new area of reincarnation. I may come back once in a while to help others rise above video gaming.
INFINITE EVOLVE PLAYERS:
These are those people who are so experienced in life, that they have conquered nearly everything. They may drop in once in a while to direct people away from video game addiction, and lead them back into life once more.
So which Soul Age are you in, with regards to the reincarnational cycle of Evolve?
If you wish to be more specific, here is the 35 sub-stage soul age chart: