For those who do not know, Zheng He was a Ming dynasty Chinese explorer who sailed all the way to Africa and Europe on ships 3 times as large as modern aircraft carriers during the 15th century, way earlier than Christopher Columbus ever did.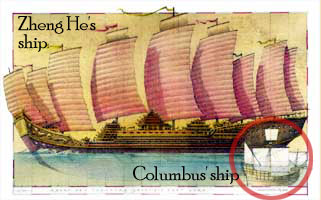 The path above shows the route that Zheng He and his fleet of a hundred ships travelled around the world. Some believe that a few of Zheng He's original ships even got lost and ended up discovering California (there is a book on this).
Since Zheng He travelled to Africa, as shown here:
It is therefore possible that Sunny may have been a descendent of Zheng He, since she has a Chinese surname (Sunny Yu), indicating that she has Chinese blood in her.
Do you all think this is possible?